I discovered recently how awesome dual-ended brushes are! They make application of makeup faster and more convenient! Genius!
I especially like dual-ended eye makeup brushes. They can help you achieve a great smokey eye or a gradual blend of colors!
Use the wider/flat side to sweep the medium shade over lids
Then use the pointed brush end to apply the darker shade in the outer corners of the eye, gradually building color to the depth you want it
then go back to the wider end, and, starting in the inner corner of your eye, blend the lightest shade (preferably with a shimmer) out towards the medium shade
Note how this blending looks, with no hint of the darker shade of shadow in the inner eye
My favorite dual-ended eye shadow brush? It's Face Secrets, sold at Sally Beauty Supply for $8.99!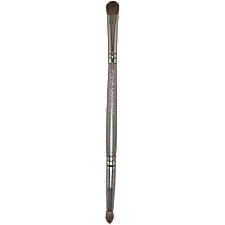 http://www.sallybeauty.com/shadow-brush/SBS-249111,default,pd.html?cgid=Cosm07
I also love dual-ended blush and bronzer brushes!
Use the wider end to apply bronzer liberally all over your face, especially hitting your forehead, nose and cheekbones
Then use the angled end to focus a concentration of blush on to cheekbones. The angle keeps the color from being spread too thin...
make application even simpler by using complementary shades in the same compact. I love Nars' Duo in "Orgasm/Laguna Beach"
Sephora also carries an entire line of various dual-ended makeup brushes, and they are in fun colors that you can easily spot in your makeup bag!
I also LOVE Bare Minerals' Double Blending Brush ($20 on QVC.com)
It applies concealer perfectly with the soft (smaller) end, then blends your bare minerals powder over the face flawlessly!
For us busy ladies on the go, it looks like dual-ended brushes are perfect!