I've got a beauty gift idea for the teens and tweens in your life, broken down by their interests here! Nearly the entire list is from Sephora - mainly because they are super easy to shop online (free shipping over $50 AND tons of free samples) or easy to swing into Destiny Mall and get assistance - their staff is the best! check out my list!!!
For the girl who loves makeup:
http://www.sephora.com/plum-dazeblinged-palette-P381512?skuId=1534353
This adorable blinged out Sephora makeup brand palette has a little bit of everything! Its stylish, the colors are nice, the quality is acceptable for a young teen AND its only $16! Perfect for the stocking!
Add on: a higher quality eye shadow brush for $20
http://www.sephora.com/pro-shadow-brush-14-P313026
If she LOVES perfume:
This gift keeps on giving even after opening it, because not only does she get 5 scents to travel with and try - but she takes the gift card inside back to Sephora to exchange it for a full size rollerball!
http://www.sephora.com/fragrance-rollerball-sampler-for-her-P382349?skuId=1562131
Is she's ready for a REAL brush set?
this $60 set is not only high quality that will last, but the bristles are coated in anti-bacterial coating that will help reduce the chance of infection in case her girlfriends share! (a huge no-no)
http://www.sephora.com/luxe-anti-bacterial-brush-set-P382003?skuId=1542208
Is she into getting dolled up?
This adorable 'love' themes set from Benefit is packaged so cute you'll want one for yourself! Its full of this complexion enhancers that will give a sweet glow!
http://www.ulta.com/ulta/browse/productDetail.jsp?productId=xlsImpprod5900427
(also available at Sephora)
Does she travel a lot with the team?
Sporty girls on the go will LOVE this $15 Mini-Emergency kit that comes in an adorable dotted bag! Its got anything and everything needed to deal with a beauty emergency on the go!
http://www.sephora.com/minimergency-kit-for-her-fuchsia-with-gold-dots-P383218?skuId=1566900
Is she WAY to obsessed with straightening her hair?
I tell the young gals ALL the time - STOP with the straightening on super high heat every day! AHH! Well, with a T3, there will be much less damage, it doesn't even offer scalding heat AND its 'one pass' technology means, one gentle swipe = lasting pin straight hair!
This $160 gift set is exclusive for the Holidays (different version avail at Ulta) that includes some Living Proof Products - which were developed by scientists and considered the most advanced no frizz technology out there!
http://www.sephora.com/t3-x-living-proof-singlepass-no-frizz-styling-set-P382552?skuId=1544048
Is she always running late?
She can save those few precious minutes in the morning with Drybar's "The Morning After" kit which includes a shower cap and their incredible dry shampoo that instantly refreshes hair! (see obsessed with straightening for another great gift - perhaps the two together will keep her from ruining her hair all together?)
$35 at Sephora and www.drybar.com
Does she struggle with troubled skin?
Then she needs a Clarisonic (see my post last week on how to properly use a Clarisonic - for severe acne it may not help)
The Clarisonic Mia is THE skincare product of the century
Sephora has a nice "Detox" Set for $150 (the normal cost of the brush) that comes with detoxifying products to clear up troubled skin
http://www.sephora.com/mia2-detox-kit-P383460?skuId=1566256
QVC also sells the MIA for $136 in this limited edition leopard print that is TOO cute AND its on easy pay which makes it even more a
http://www.qvc.com/Clarisonic-Mia-2-Sonic-Cleansing-System-with-Fresh-Cleanser-Search-Results.product.A239633.html?sc=A239633-SRCH&cm_sp=VIEWPOSITION-_-2-_-A239633&catentryImage=http://images-p.qvc.com/is/image/a/33/a239633.001?$uslarge$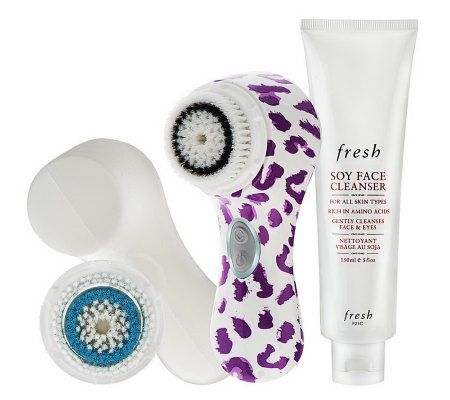 So there you have it - my top teen and tween beauty gift pics this Holiday Season! Ok FINE, I've got one more that will be SURE to blow your mind!
The $250 Sephora Blockbuster Train Case
Not only does it have EVERYTHING...it well, has everything!!!! The 16 adjustable compartments in this super durable travel case that locks is stuffed with makeup, skincare, nail products and hair tools that will wow any woman - especially your teenager!
Ok NOW you have my comprehensive list - you can't go wrong here!!!